1. 14-IN-1 MULTIFUNCTION VEGETABLE & FRUIT CUTTER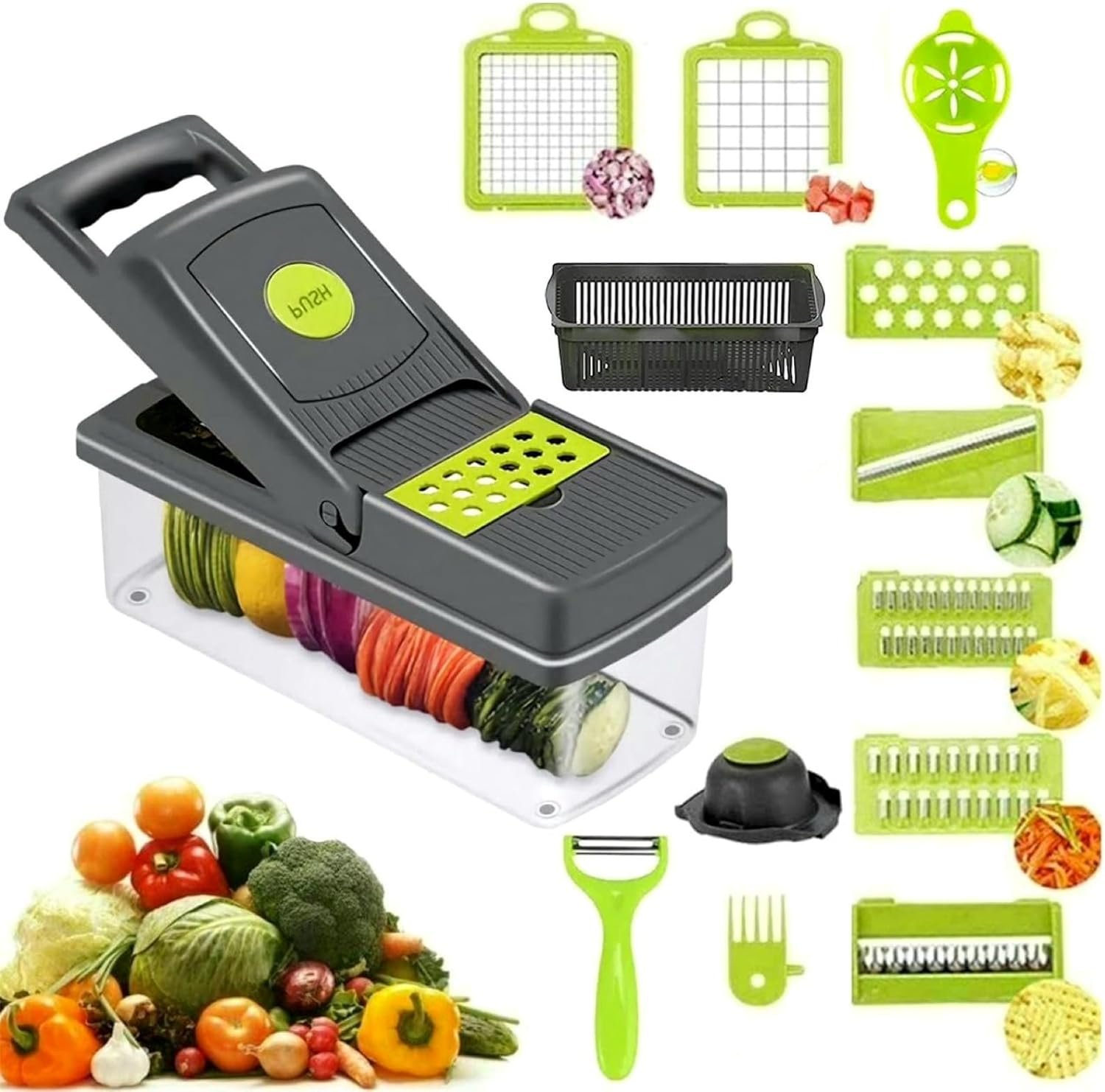 2.ONE-KEY CLEANING FUNCTION VEGGIG CHOPPER
Are you still using a brush to clean the onion chopper? The unique one-button cleaning function allows  residues on the cutting board. After cutting, press the PUSH button, which not only saves you time to clean the veggie slicer, but also removes residues on the cutting board more comprehensively (more efficient use with the cleaning fork).The included drain basket can not only store things, but also quickly clean the fruits and vegetables in the drain basket.
3. SAVING TIME AND EFFICIENT:
The food chopper You can get the ideal vegetable effect with one pressing action, saves more time & labor than traditional multi-cuttings. The detachable design and cleaning fork help you get rid of the tedious cleaning work. Just rinse the vegetable chopper dicer with running water, then return a neat kitchen dicer helper to you.
4. SHARP & DURABLE STAINLESS FOOD CHOPPER:
Made of 306 stainless steel and ABS material. For cutting, slicing, shredding and chopping fruit & vegetable, e.g. Onion, Mushroom, Cucumber, Carrot, Potato, Tomato, Ginger, Garlic, Cheese etc.
5.PERFECT GIFT CHOICE:
If you are looking for a gift for a friend or loved one, then you have just found the perfect gift. If they are professionals or busy parents, then this smart slicer will be a lifesaver for them as it will help them save a lot of time cooking.
6. SAFE TO USE:
The vegetable chopper blades are ultra sharp, we suggest to use with the Hand Guard for Slicer and Grater blade. Please be in strict accordance with the instruction and pay attention when assemble or disassemble. Avoid installing violently and using blades on inappropriate ingredients, which leads to blades bend or damage. No putting blades randomly, after rinsing and drying, pls collect them into the container and keep them away from children!